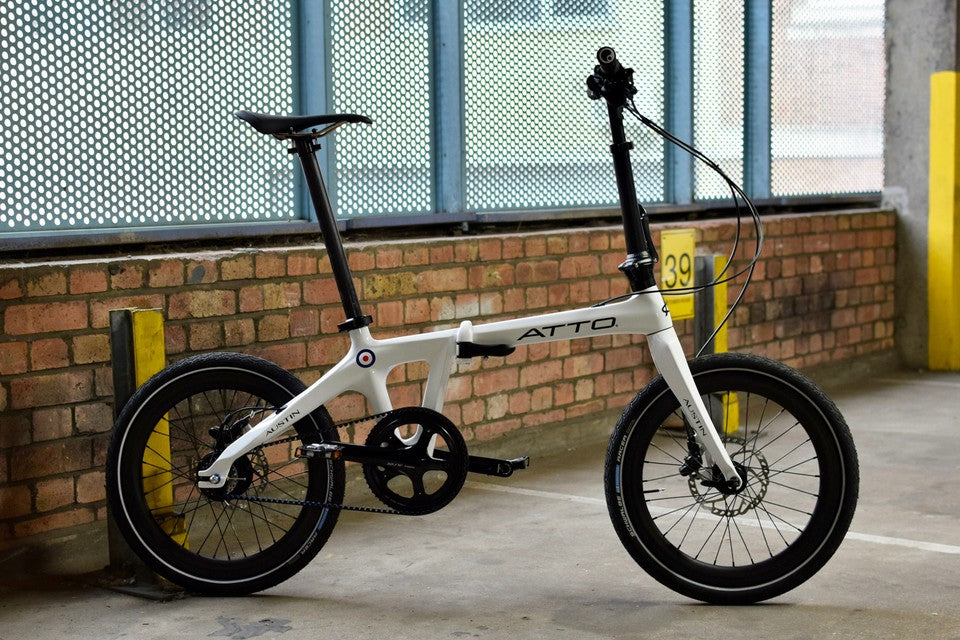 The ATTO Appears On The Radar
Posted by Wayland Austin on
This month saw the Austin Cycles ATTO appear on BikeRadar to great acclaim, complimenting a bike which in their eyes "promises to be the perfect folder for roadies", as well as going on to demonstrate the game changing nature of our unique design for the ATTO.
With much of the positivity towards the ATTO having been focused upon the performance elements, such as the hydraulic brakes and full carbon build, the spotlight also fell upon the cleanliness of the belt drive system. "The choice of a Gates belt drive seems like an obvious one for a folding bike, with no oily chain to dirty your work clothes when carrying it or, more importantly, other commuters on packed trains."
Conceived as a solution to the stale state of folding bikes, our ATTO is constructed to suit the demands of those who are used to spending their time in the saddle of high performance machines; those who do not compromise.

"The braking is excellent, as you'd expect, the gear range and shift speed are spot-on, and the contact points are great with excellent Ergon grips and a saddle that's comfortably shaped. The long carbon post adds plenty of compliance when you ride over rougher surfaces.
"The fold is simple and can be completed in moments, and you can trolley the bike when folded, rolling it on its wheels and using the saddle as a handle."
Read the full first look article over on BikeRadar.
Welcome To The Fold.