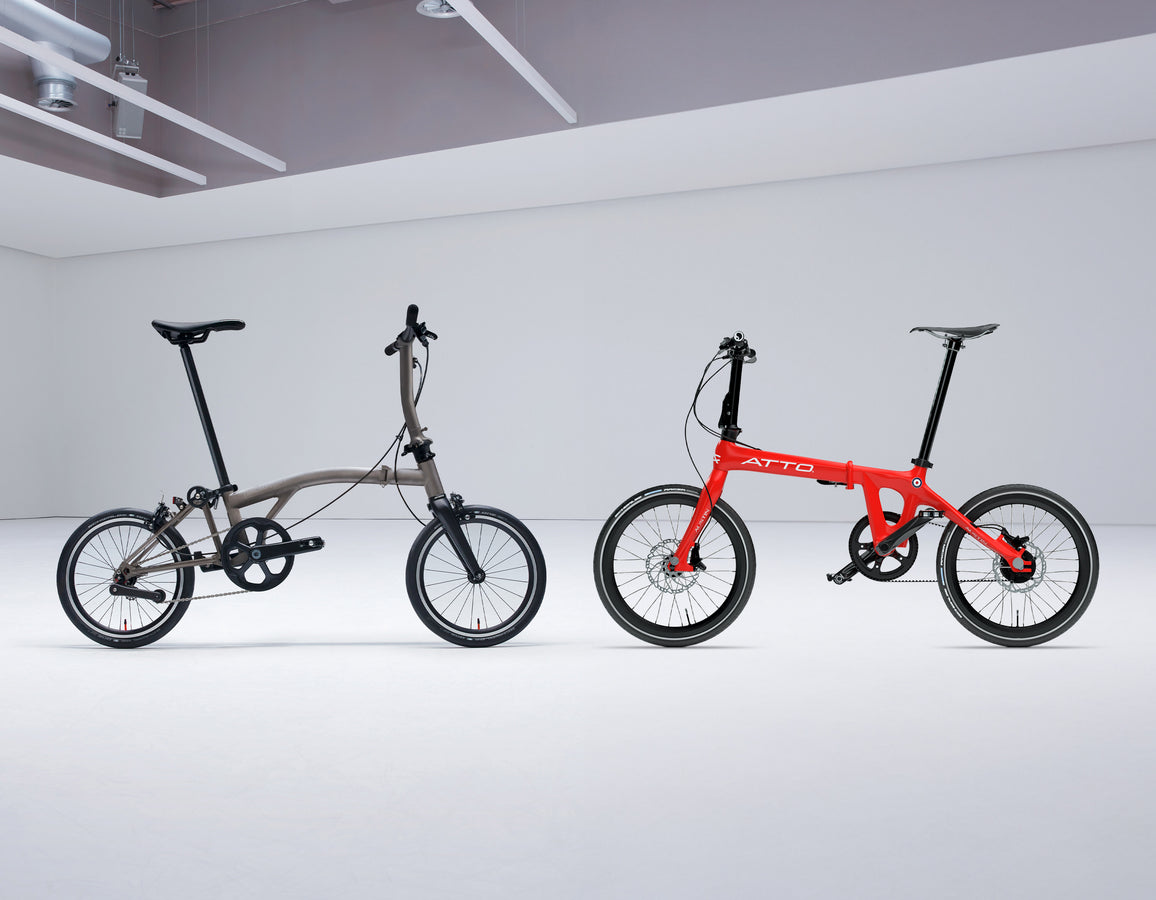 Seven reasons why you should choose an ATTO over a Brompton T-Line
Posted by Andy Rees on
Both Austin Cycles and Brompton share a common goal – to make bicycles accessible and convenient to as many riders as possible, especially in urban environments. 
Brompton's recently relaunched T-Line folding bike aims to deliver performance to the city commuter. The frame is made from titanium, a notoriously tricky material to work with, and is combined with some sleek carbon fibre components to reduce weight, enhance ride performance, and bring a touch of modernity to a classic design. 
While we applaud any effort to improve bikes, here, just for fun, are seven reasons why the ATTO consistently outperforms a Brompton T-Line every day of the week.
1. Monday - Why build a dirty bike when you can build a clean one?
We all detest dirty, oily, and rusty bikes. None of us want to spend our evenings and weekends cleaning and lubricating our daily commuter. Nor do we want to get our clothes filthy, on the way to work or the pub. Dirt and grime sticks to the oily and greasy parts of your bicycle, particularly in autumn and winter.
At Austin Cycles, we designed the ATTO around a carbon fibre belt drive system. Why? Because it's completely oil and maintenance-free. There's nowhere for grime to stick, and the belt lasts for at least 60,000 miles, requiring no cleaning (it's teflon coated), adjustment, or maintenance. It will never rust, no matter how wet it gets.
We opted for a carbon belt drive instead of the common bicycle chain, despite it being more expensive and presenting engineering challenges. It outperforms and outlasts a chain by years, and we integrated it into the ATTO's design from the start, not as an afterthought.
2. Tuesday - Eleven gears are better than four
Brompton offers two T-Line models – the T-Line One, a single-speed folding bike and the T-Line Urban, a 4-speed folding bike. The ATTO offers either a single speed option for the purist and minimalist commuter or a top-of-the-line 11-speed Shimano hub gear, with gearing fine-tuned for those that need to effortlessly navigate the city and explore farther afield.
If your journey includes hills, you'll appreciate the extra gears that enable you to conquer the steepest climbs without straining your legs. The beauty of 11 gears is that, once you've reached the summit, you can pedal downhill without your legs spinning uncontrollably.
On a more practical note, the Shimano hub is virtually maintenance-free, tucked inside the rear wheel and allows you to change gears even while stopped at traffic lights. In 11th gear, the ATTO cruises at 30 mph (where speed limits permit) – what's not to love?
3. Wednesday - Great brakes, not cheap brakes
The Brompton T-Line has standard rim brakes which are inexpensive and lightweight but are often unreliable in wet conditions or when not properly cleaned, maintained and adjusted. Hydraulic disc brakes, although heavier and pricier, work first time, ever time, whether it's wet or dry. On city streets, this reliability can be a lifesaver.
This is why we equipped the ATTO with Shimano hydraulic disc brakes – they just work. Once they're set up, there's no need for constant adjustments, and spare parts are readily available at any bike shop. Disc brakes are also cleaner than rim brakes; there's no messy aluminum paste that stains your hands and clothes and takes ages to wash off. We made a deliberate choice when opting for hydraulic disc brakes.
4. Thursday - Ten seconds versus twenty seconds
Every second counts, especially when folding your bicycle. We designed the ATTO to be as simple as possible, and achieving simplicity is no easy task. We wanted the folding process to be intuitive – think setting up your iPhone. You don't need a degree to figure it out. Moreover, you can fold your ATTO in under 10 seconds, without years of practice – half the time it would take to fold a Brompton T-Line. Why complicate things when simplicity is an option?
5. Friday - Ride well or wobble
We made ride quality a focal point in developing the ATTO using groundbreaking innovation. We took the concept of the ultimate ride seriously, engineering the ATTO frame to be dynamic and agile. We tuned the carbon fibre frame, fork, seat post, and handlebar to naturally dampen and absorb the high-frequency vibrations that come with city riding, without the need for rubber or plastic shock absorbers. Carbon fibre is both stronger and lighter than titanium, aluminum, or steel, and it doesn't corrode or rust.
That's why we opted for 20-inch wheels, rather than toddler-sized 16-inch wheels. Yes, 20-inch wheels make the fold slightly larger and can add weight, but not if you have super-light carbon fibre wheels like the ATTO. The improved ride quality and stability are much more significant in the real-world context of city riding.
6. Saturday - A peaceful transfer of power
Riding an ATTO is a delight. The beauty of the ATTO is in the simplicity and detail. People often ask what we're offering with the ATTO, and our answer, without a hint of irony, is "smiles."
When you ride an ATTO, you can't help but smile. It's because the carbon fibre frame and belt drive have been meticulously tuned to transfer power from the cranks to the rear wheel smoothly and efficiently. It feels like you are riding a proper bicycle not a toy bike. This means more of your energy propels you forward, allowing you to accelerate effortlessly from a standstill. The ATTO wants to be ridden fast. The ATTO truly represents the ultimate city ride.
7. Sunday - Two folding pedals are better than one
Both pedals on the ATTO fold inwards on spring-loaded clips, creating a slim and sleek silhouette. Also, when the ATTO is folded, there's no need to carry it – it rolls along on its wheels, just like your favourite suitcase.
We could boast about the remarkably light weight of the ATTO but, in reality, we're not overly obsessed with weight. It's important, of course, but the ATTO is more than the sum of its parts.
Every component on the ATTO has been carefully chosen for its performance, ensuring your safety on the road, longevity, and most importantly, the smiles it brings. Riding a bike should be fun. Remember the feeling of freedom, independence and speed you had riding a bike as a child? That's the feeling you get when riding a ATTO.
8. And one for luck - Price
The Brompton T-Line begins at a price of £4,250 for the single-speed option, while the 4-speed version is priced at £4,520. This is a substantial cost for a bicycle that appears rather similar to their base model priced at £950.

In comparison the ATTO currently starts at £2,495, a whopping £1,755 cheaper than the T-Line.
Considering the components, performance and materials, the ATTO overshadows the T-Line in every way. Visually, the ATTO looks like a supercar in comparison to the Brompton T-Line.
In conclusion
The ATTO was designed with everyday practically in mind and to create an unashamedly, high-quality folding bike that's great fun to ride and easy to own. Everything on the ATTO serves a purpose, making it perform better in the real world. There's nothing added to the bike, and there's nothing that doesn't need to be there.

Considering a Brompton T-Line? If so, maybe check out the ATTO too. You may be surprised by how much more of a bike you can get for your money.