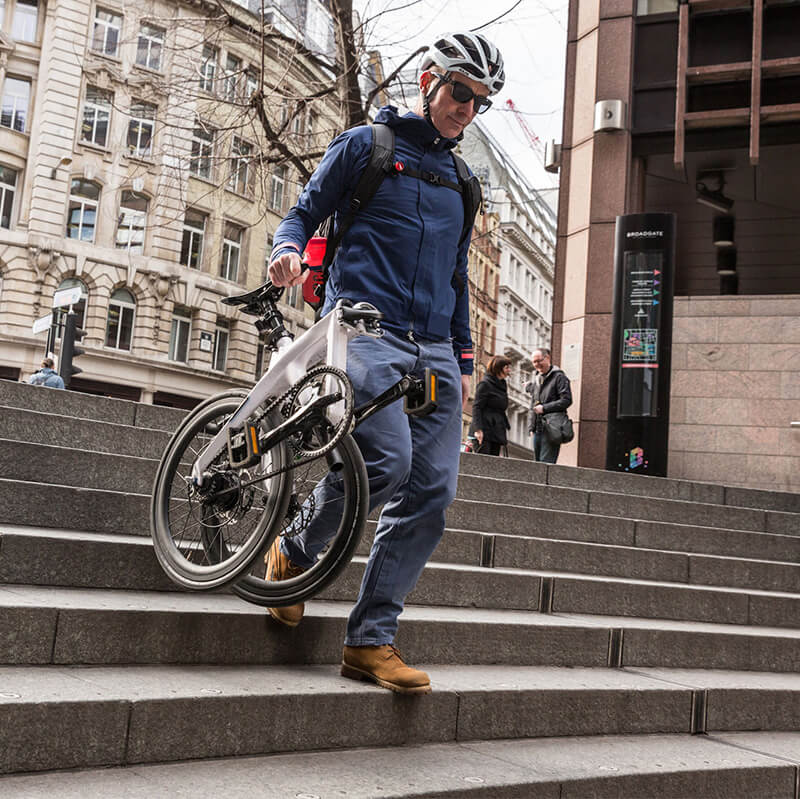 Reinventing The Urban Cycling Experience
Posted by Wayland Austin on
Travelling within the city can be an isolating and unpleasant experience. Stuck beneath the streets on the underground or packed amongst bodies of fellow sardines on the morning bus, you are no longer an individual but part of a slowly moving mass. It doesn't have to be like this; there is an alternative. For many, getting from A to B is simply the same repeated sequence, isolated from your city, a means to an end.
The better alternative is a bicycle that is completely oil-free, made from lightweight carbon fibre, making it light enough to be carried up stairs, but folds in less than 10 seconds. A bike that is really fun to ride and has been designed with real-world urban performance in mind. That bike is the ATTO. No mess, no fuss.
Cycling should be a joy. It should be fun, it should be easy and it should be able to integrate seamlessly with the public transport network. That is what the ATTO delivers.
Cycling through a city is very often the fastest way to travel. In a city like London, where the government spends nearly £170m per year on cycling infrastructure, segregate cycle lanes are becoming increasingly accessible. This makes cycling safer, easier and less intimidating allowing more riders to get out onto the road. Riding a bike is fun and liberating, cruising past lines of traffic. Whether commuting to work, running weekend errands or popping to the shops for a pint of milk, a bicycle will help you get there, quickly and effortlessly.
As well as being more environmentally friendly in an every more green-aware community, cycling is also excellent for your health, your mental wellbeing and your cardiovascular fitness. Why pay expensive gym memberships when simply riding a bike will do the same job and even help you save in the long term.
The ATTO has been designed to fit seamlessly into your urban lifestyle. With a high-performance folding bike, you can, literally, take your bike everywhere. The ATTO is allowed on trains and on the underground; you can fold it up and put it in the corner of the pub and it will fit in the back of a taxi on a Friday night.  It will deliver you seamlessly to work in the morning with a smile on your face.  
We want to make cycling around your city fast, easy, stress-free, clean and fun.  That's what the ATTO delivers. In doing this, we've reinvented the urban cycling experience.
Welcome To The Fold