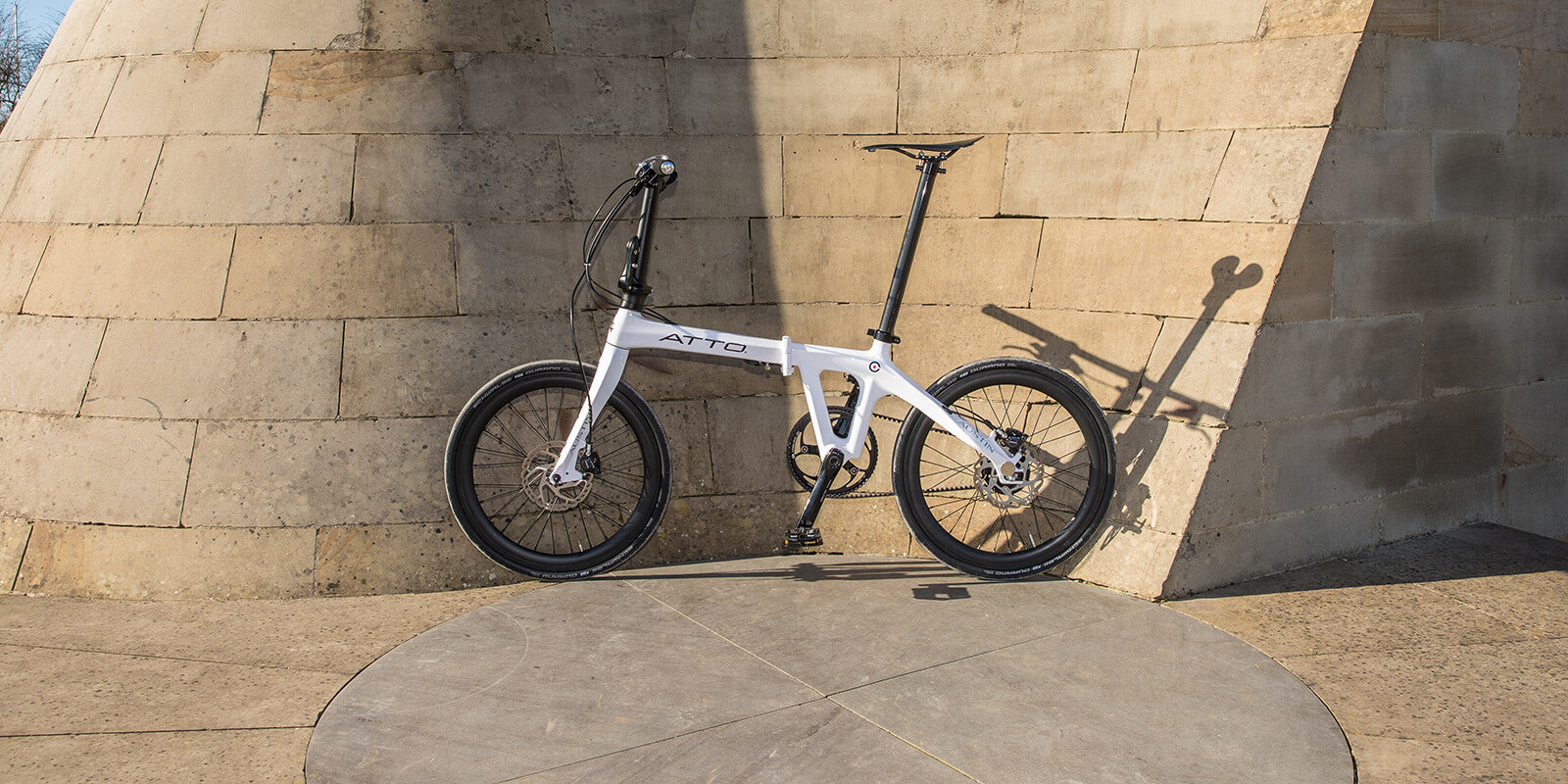 Folding Does Not Have To Compromise Performance
Posted by Tom Copeland on
The inspiration for the ATTO, a performance folding bike, came directly from Naval aviation. Indeed, the roundel that sits on the seat tube of the ATTO is in homage to these pioneers of aviation.
For over a hundred years, Naval aircraft have been folding their wings when onboard an aircraft carrier. In the confined space of a ship, this brings obvious advantages but without compromising performance. We took the same approach when designing the ATTO. Why compromise performance just because your bike has to fold?
There are lots of folding bikes out there already but most are built at low cost.  Many of these bikes are built with cheaper, lower-quality components, with very little thought to aesthetics or riding performance. They are oily, heavy and not as much fun to ride; their only redeeming feature is that they are cheap.
We took a completely different approach with the ATTO. We wanted to build a bike that was the absolute opposite of your typical folding bike. The ATTO was designed to be clean, light, strong and fast; a performance bike that just happened to fold. We wanted to build a folding bike, with the best real-world performance and high-quality components, without being slaves to the cheapest price.
This is why we decided to use carbon fibre for the frame and forks. This allows us to make the ATTO light, without compromising strength or resilience.
The British firm Short Brothers designed the first folding aircraft wing, in 1913. Since then, many iconic and beautiful Naval aircraft has been developed which fold.
Two of my favourites are the Hawker Sea Fury and the F4 Phantom; both aircraft my late Father flew.
The Sea Fury had an 18 cylinder Bristol engine that developed over 3,000hp and allowed it to reach 485mph and climb to nearly 35,000ft. Pretty impressive performance for a plane that folds! In fact, it was the fastest single-engine, propeller-driven aeroplane in the world.
The F4 Phantom was originally developed for the US Navy by McDonnell Douglas, in St Louis, Missouri. It could fly at over Mach 2.2 (2.2 times the speed of sound) and set 15 world records for in-flight performance.  These included absolute speed (Mach 2.5) and absolute altitude (over 98,000ft – worth remembering when a Jumbo Jet flies at 35,000ft). Whilst not as sleek as the Sea Fury, there was an undoubted rugged and purposeful beauty about the Phantom.
It is clear that folding does not have to compromise performance.
With the ATTO, we took a completely fresh look at folding bikes.
We designed the ATTO around a Gates carbon belt-drive, the best there is. This not only delivers outstanding, consistent performance but also means the ATTO does without a dirty chain and is completely oil-free – something that is very important for an urban folding bike.
We decided it was important to use larger 20-inch wheels, as these deliver a more stable ride than more usual 16-inch wheels. But we chose carbon fibre wheels to keep rotating mass low. This is the most important area to lose weight on a bicycle.
We decided from the outset that hydraulic disc brakes were important, giving a better real-world performance. Cantilever brakes are lighter and much cheaper, but you won't be thinking that when a minicab does an unexpected U-turn right in front of you or a distracted pedestrian steps off a curb.
The simplicity and beauty of the design was important. Making the fold fast (less than 10 seconds) and easy was essential. Employing internal cable routing prevents them snagging when the bike is folded or carried up stairs.  It also allows the frame to be kept as clean as possible.
The AC ATTO is an impressive machine.
It answers the conundrum of making a performance bike that just happens to fold. By pairing a clear vision with clever design and extensive development, with input from riders all over the world, the ATTO proves that Folding Does Not Have To Compromise Performance.
Welcome to the Fold.
Shop for the ATTO 
here
.