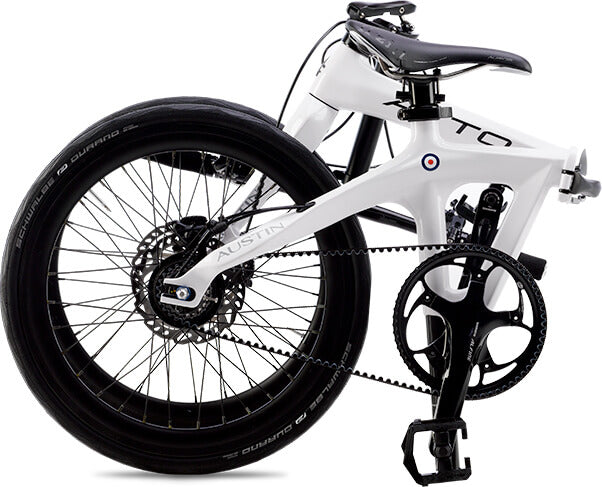 Inspired by the ATTO
Posted by Wayland Austin on
For the duration of another unforgettable edition of Le Tour de France, Austin Cycles partnered with the great team at The Cycling Podcast. We offered listeners a chance to win their very own ATTO. Suffice to say, with such a passionate fanbase, there was an amazing response to the opportunity to own one of our unique high performance bicycles; folding with zero compromise.
We asked entrants to tell us why they wanted to own an ATTO.  It proved to be a tough task choosing a winner from so many contrasting, interesting and amusing submissions. Here are a few of the answers we particularly liked:
Rachel - For An Austin-tacious Entry
I recently moved 1,375 miles across the United States from Cleveland, Ohio to Austin, Texas. Winning the AC ATTO would let me explore Austin in style on an Austin.
Paul - For Services Oversees
As a Brit living in Paris, I'd like to show everyone in the home of the Tour de France the best of British bicycle engineering.
Barney - For A Super-marine Reference
Because the ATTO is the Spitfire of the bicycle world and I've forgotten what it's like to not have chain grease on my right calf.
Kevin - For Recognising A Real High Performance Machine
...it's about time I upgraded my Ferrari.
Brian - For Seeing The Future
Cycling is the future for urban mobility and the ATTO is the future of cycling for everyone.
Clint - For Simply The Best
I simply want to ride on the best. 
...a 25 min walk to the station would be far quicker with the ATTO - and help get back for bath time.
Isabel - For Love At First Sight
The ATTO could be the beginning of a great love story 
Doug - For The Coolest
It looks far cooler than a Brompton and I like cool
Neil - For The 21st Century Boy
It drags the folding bike into the 21st Century
Welcome To The Fold.