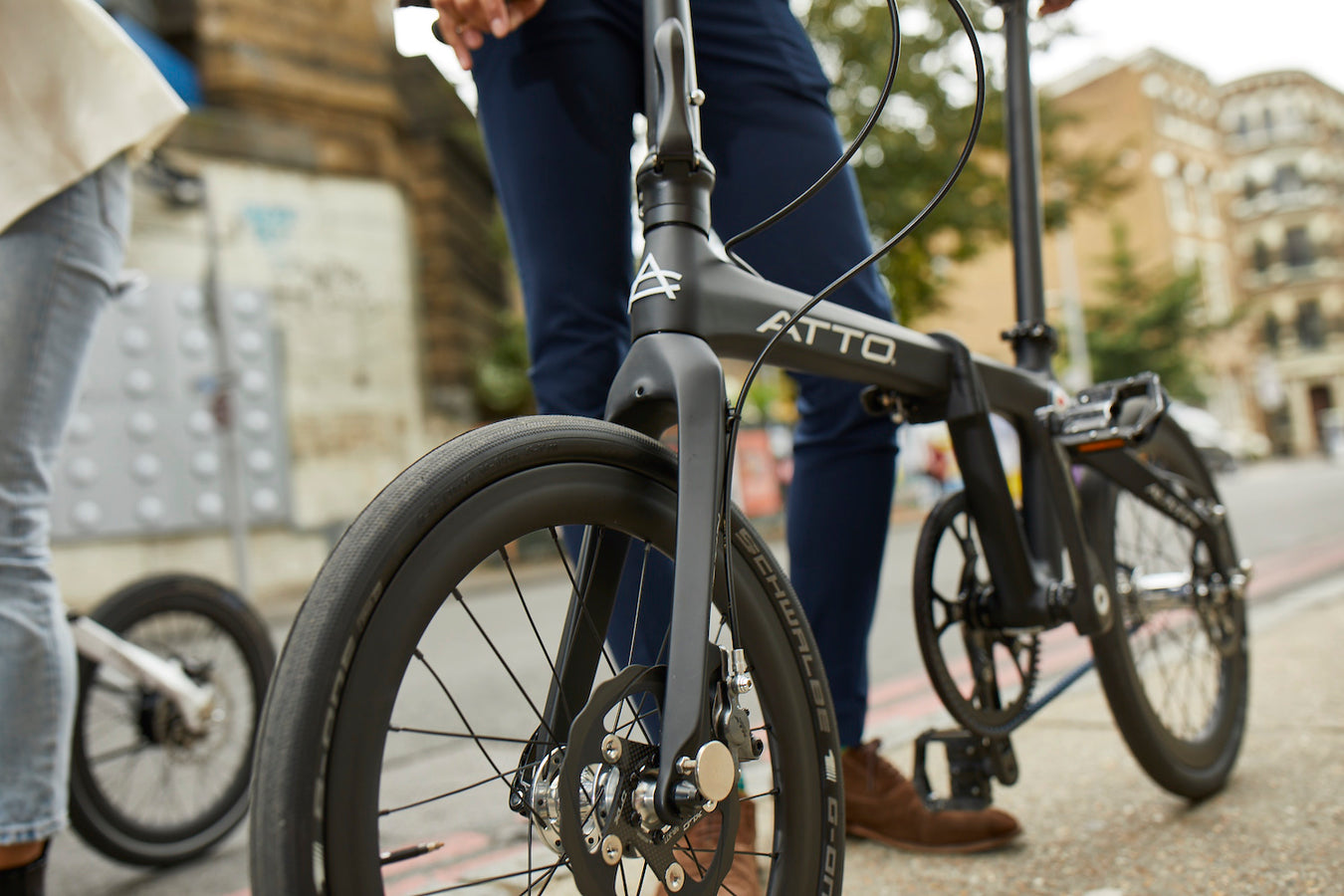 Everything Is There For A Reason
Posted by Wayland Austin on
When we designed the ATTO, we tried to think of everything. We designed a folding bike that we wanted to ride, that put quality and real-world performance before the cheapest price. We handpicked every component. Perhaps, one of the greatest compliments was when we took the ATTO to show a friend of ours, who knows a thing or two about folding bikes. Having examined the ATTO and ridden it he said: "I wouldn't change a thing."
There were four key elements that went into the design of the ATTO: light, clean, fun and functional. These four aspects, combined with the best components, is what makes the ATTO a great folding bike and a pleasure to ride.
Let's explore a number of the key aspects of the ATTO. 
Hydraulic Disc Brakes
Who wants a bike that won't stop in an emergency? Stopping power is of utmost importance when it comes to feeling safe and secure on two wheels. It's great to be able to ride fast but you have to be able to stop fast too.
Hydraulic disc brakes were the obvious answer. They might be a little heavier than ordinary brakes but they give you powerful and reliable stopping power every time, no matter what the weather.
Carbon Fibre
Why build a heavy bike if you can build a light bike? That's why we used carbon fibre. Carbon design and development has come on in leaps and bounds in the last decade. We were able to make a frame that was some 1.5kg lighter than the equivalent steel frame without compromising the strength in critical areas; plus the carbon lay-up gave a more forgiving and compliant ride. Our use of carbon doesn't end with the chassis. We combine a high grade Toray carbon fibre frame and fork with carbon wheels, carbon bars and even carbon seat post
The overall result is a highly portable and responsive folding bike that will never leave your side.
Belt Drive
Why build a dirty bike when you can build a clean bike? To make sure every ride is clean and hassle-free we focused on removing all the oil and any grit and grime from the ride. So we removed the dirty chain, the main component which leads to dirt both on the bike and on your clothes and hands.

We found the perfect solution that offered even more than just a clean ride. By using a Gates Carbon Belt Drive we remove all the grease and dirt. The belt drive also delivers seamless power transfer, does not stretch and won't need replacing for at least 60,000km.
Discover the ATTO in full here.